Il Veli Interpositi è una invaginazione della pia madre che forma uno spazio virtuale situato appena sopra ed anteriormente alla ghiandola pineale. Quando questo spazio si riempie di liquido con conseguente formazione di una cavità visibile ecograficamente viene denominato Cavum Veli Interpositi (CVI). Se la cavità cistica si ingrandisce (Cisti Interemisferica), raggiungendo in sezione assiale un diametro trasverso di almeno 10 mm., si definisce Cisti del Cavum Veli Interpositi (CVIC).
Il Cavum Veli Interpositi è quindi considerato una variante normale mentre la Cisti del Cavum Veli Interpositi potrebbe rappresentare una anomalia di sviluppo. Queste cisti, insieme alle cisti del cavum vergae, tendono a regredire tra il settimo mese di vita intrauterina e il secondo anno di vita postnatale e sono anche chiamate "strutture primitive persistenti" (Vinken PJ, 1977).
Poichè non sono rivestite da ependima o da cellule dei plessi corioidei non producono liquido cerebrospinale e pertanto non sono considerate parte del sistema ventricolare (Rossitch E Jr. 1996); sono in contatto diretto con lo spazio subaracnoideo ma non con il sistema ventricolare.
Diagnosi ecografica
In sezione assiale la CVIC si presenta come una formazione cistica interemisferica localizzata dietro al forame di Monro, sotto le colonne dei fornici e sopra la tela choroidea del 3° ventricolo, uniloculare, ben delimitata, spesso di forma triangolare con apice rivolto anteriormente, di dimensioni variabili dai 10 ai 30 mm. In sezione sagittale mediana si presenta come una formazione cistica situata inferiormente allo splenio del corpo calloso e superiormente alle vene cerebrali interne.; anteriormente è separata dal cavo del setto pellucido dalla colonna del fornice che si presenta come una sottile membrana.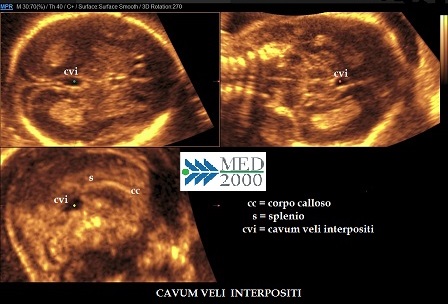 In genere è isolata e non tende ad aumentare nel corso della gravidanza.
La diagnosi differenziale deve essere posta principalmente con la cisti aracnoidea. Questa è in genere più grande (diametro medio 40 mm. con range da 10 mm. a 80 mm.) con tendenza ad aumentare nel corso della gravidanza, situata nella fossa cranica media, più raramente nella fossa posteriore, spesso associata ad altre anomalie: agenesia del corpo calloso, malformazione di chiari, idrocefalia, atrofia emifacciale, difetto del setto interatriale, labiopalatoschisi, micrognazia, piede torto.
Management
Dai dati attuali della letteratura la presenza di una cisti del CVI isolata, di dimensioni stabili, non associata ad altre anomalie è coerente con un esito postnatale favorevole. Sono stati comunque descritti rari casi a prognosi diversa: un caso associato ad arteria ombelicale unica e Trisomia 21, casi con idrocefalia, epilessia, crisi epilettiche, convulsioni motorie parziali, macrocefalia, autismo.
Nel sospetto di Cisti del Cavum Veli Interpositi è consigliabile effettuare:
Risonanza Megnetica Fetale
Cariotipo Fetale
Consulenza Neurochirurgica Pediatrica

Ulteriori controlli
Cavum Vergae
Il cavo del verga (cavum vergae) è l'estensione posteriore del cavo del setto pellucido nel periodo fetale; lo si reperta al disotto dello splenio del corpo calloso e in un 30% dei casi lo si può visualizzare anche nel periodo neonatale.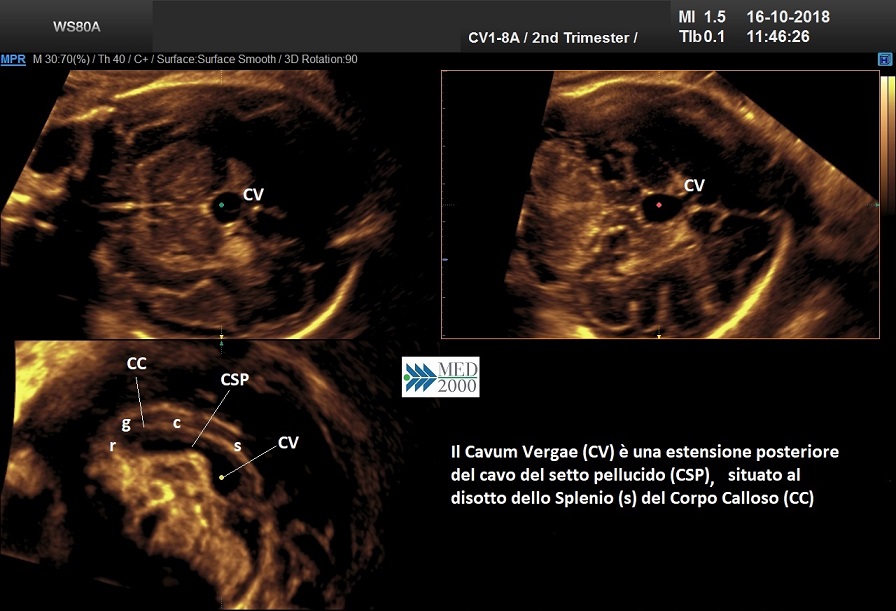 Come per la CVIC un cavo del verga di diametro trasverso superiore ai 10 mm. viene definito cisti del cavum vergae; è un reperto occasionale e in genere privo di significato patologico.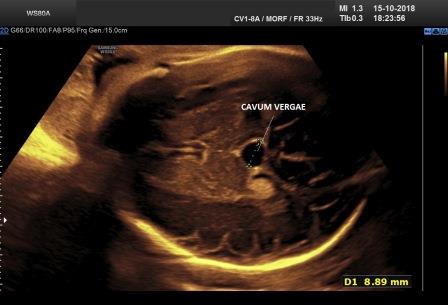 In caso di persistenza al di fuori del periodo fetale si consiglia controllarne l'evoluzione nel tempo.
Bibliografia
Blasi I., Henrich W., Argento C., Chaoui R. Prenatal Diagnosis of a Cavum Veli Interpositi. J Ultrasound Med 2009; 28:683–687

Chen CY, Chen FH, Lee CC, Lee KW, Hsiao HS. Sonographic characteristics of the cavum velum interpositum. Am J Neuroradiol 1998;

19: 1631–1635.
D'Addario V., Pinto V., Pintucci A.,Di Cagno L. Cavum veli interpositi cyst: prenatal diagnosis and postnatal outcome. Ultrasound Obst Gyn 2009; 34: 52-54
Eisenberg VH1, Zalel Y, Hoffmann C, Feldman Z, Achiron R. Prenatal diagnosis of cavum velum interpositum cysts: significance and outcome. Prenat Diagn. 2003 Oct;23(10):779-83.
Epelman M, Danemann A, Blaser SI, Ortiz-Neira C, Konen O, Jarrin J, Navarro OM. Differential diagnosis of intracranical cystic lesions at head US: correlation with CT and MR imaging. Radiographics 2006; 26: 173–196.
Gangemi M, Donati P, Maiuri F, Sigona L. Cyst of the velum interpositum treated by endoscopic fenestration. Surg Neurol 1997; 47: 134–136.
Hertzberg BS, Kliewer MA, Provenzale JM. Cyst of the velum interpositum: antenal ultrasonographic features and differential diagnosis. J Ultrasound Med 1997; 16: 767–770.
Kier LE. The evolutionary and embryologic basis for the development and anatomy of cavum veli interpositi. Am J Neuroradiol 2000; 21: 612–613.
Maciej K. Cavum velum interpositum, cavum septum pellucidum and cavum Vergae: a review. Childs Nerv Syst. 2011 Dec; 27(12): 2027–2028.


Meller W, Tsai LY, Chiu LC. Cavum velum interpositum in a boy with infantile autism.

J Autism Dev Disord 1985; 15:109–111.
Pierre-Kahn A, Hanlo P, Sonigo P, Parisot D, McConnell RS. The contribution of prenatal diagnosis to the understanding of malformative intracranial cysts: state of the art. Childs. Nerv Syst 2000; 16:619–626.
Prechtl HF, Einspieler C, Cioni G, Bos AF, Ferrari F, Sontheimer D. An early marker for neurological deficits after perinatal brain lesions. Lancet 1997; 349: 1361–1363.
Raimondi AJ, Gutierrez FA, Jones RR, Winstin Sr. Cystic cavum veli interpositi associated with normal or low pressure hydrocephalus. Childs Brain 1975; 1: 291–305.
Rossitch E Jr, Wilkins RH. Developmental midline intracranial cysts. In: Wilkins RH, Rengachary SS, eds. Neurosurgery, Vol. 3, 2nd Ed., New York, McGraw-Hill. 1996; 3707–3708.
Supprian T, Bengel D, Hofmann E, Fallgatter AJ, Franzek E. Cavum veli interpositi and psychotic disorder in a monozygotic twin. Eur Arch Psychiatry Clin Neurosci 2000; 250: 76–78.
Shah PS, Blaser S, Toi A, Fong K, Glanc P, Babul-Hijri R, Rutka J, Chitayat D. Cavum veli interpositi: prenatal diagnosis and postnatal outcome. Prenat Diagn 2005; 25: 539–542
Vergani P, Locatelli A, Piccoli MG, Ceruti P, Patanè L, Paterlini G, Ghidini A. Ultrasonographic differential diagnosis of fetal intracranical interhemispheric cysts. Am J Obstet Gynecol 1999; 80: 423–428.
Yokota A. Cysts originating from a defect in the hemispheric cleavage (cavum septi pellucidi, cavum vergae, cavum veli interpositi). In Intracranial Cystic Lesions, RaimondiAJ, ChouxM, Di RoccoC (eds). Springer Verlag: New York, Berlin, Heidelberg, 1993; 87–99.


W

inken PJ, Bruyn GW, eds. Handbook of clinical Neurology. Congenital malformations of the brain and skull. Amsterdam, Elsevier/North Holland. 1977; 299–336.