Difetto Interatriale DIA
Difetto Interatriale DIA
Si definisce Difetto Inter Atriale ( DIA ) qualsiasi difetto del setto atriale che non sia il normale forame ovale pervio.
Lo sviluppo del setto atriale avviene in varie fasi e si conclude solo dopo la nascita con la chiusura del forame ovale; se il processo di chiusura viene interrotto ne consegue la persistenza in epoca postanatale di una comunicazione tra i due atri, destro e sinistro.
In base alla embriogenesi, alla localizzazione rispetto alla "fossa ovalis" ed alle dimensioni i DIA vengono classificati in quattro tipi che in base alla frequenza sono:
DIA tipo ostium secundum

: rappresenta circa l'80% dei casi, è di solito isolato, localizzato centralmente al setto atriale, conseguente alla mancata o incompleta chiusura del forame ovale.

DIA tipo ostium primum

: è il secondo in ordine di frequenza, è situato in basso nel setto atriale, in prossimità delle valvole atrio-ventricolari e spesso fa parte di una malformazione cardiaca congenita il canale atrio-ventricolare incompleto.

DIA del seno venoso

: vengono distinti in 1) DIA seno venoso tipo vena cava superiore: sono localizzati subito al disotto dell'orifizio della vena cava superiore nell'atrio di destra; la VCS si trova a cavallo del difetto per cui drena in entrambi gli atri; 2) DIA seno venoso tipo vena cava inferiore: sono localizzati in prossimità dell'orifizio della vena cava inferiore nell'atrio di destra.

DIA del seno coronarico

: sono rari e localizzati nell'ostio del seno coronarico in atrio destro.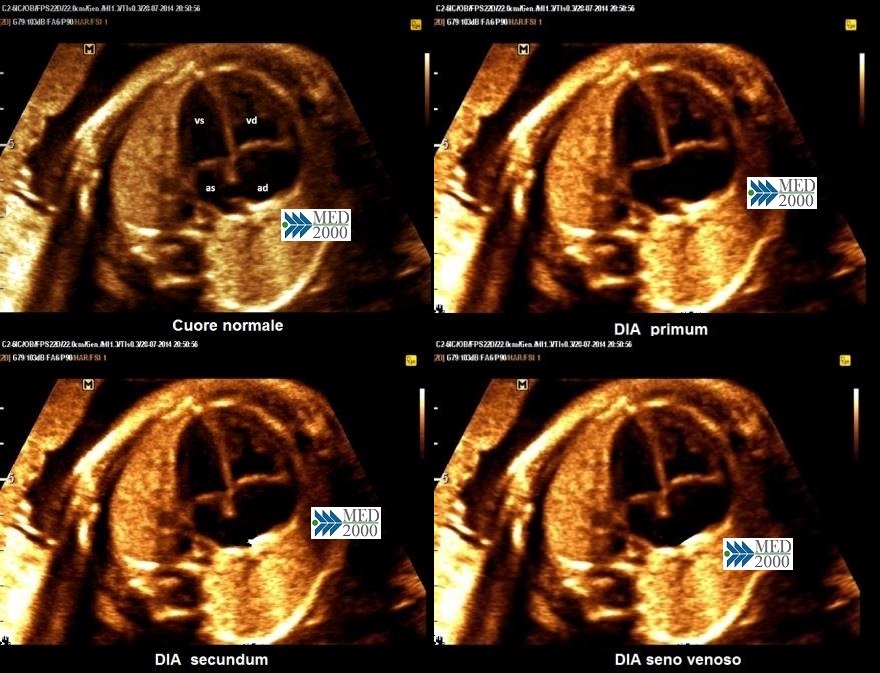 E' opportuno fare alcune precisazioni, importanti anche dal punto di vista medico-legale: solo una piccolissima parte di DIA possono essere sospettati in epoca prenatale. Inoltre spesso un normale aspetto del setto interatriale non esclude assolutamente la presenza di un DIA tipo ostium secundum ne tantomeno è possibile distinguere i casi di forame ovale pervio che di solito si chiudono a breve distanza dalla nascita dalle forme di veri e propri DIA tipo ostium secundum (Paladini D. et al., 2010).
Non sono riportati in letteratura casi di diagnosi prenatale di DIA tipo seno venoso e seno coronarico.
I DIA tipo ostium primum rappresentano la forma incompleta del Canale Atrio Ventricolare (CAV ).
L'unico DIA del quale può porsi un sospetto diagnostico in epoca prenatale è il DIA tipo ostium secundum. Gi aspetti ecografici sono:
forame ovale ampio: diametro del forame ovale > 7-8 mm. nel momento di massima apertura;

color Doppler: al color Doppler può osservarsi un flusso bidirezionale a livello dell'ampio shunt inter-atriale.
I Difetti Inter Atriali possono associarsi a varie condizioni, appresso elencate.
Anomalie Cardiache che possono associarsi ai DIA
Anomalia di Ebstein
Atresia Polmonare
Blocco cardiaco completo
Canale Atrio Ventricolare
Coartazione Aortica
Connessione Venosa Anomala Polmonare Parziale
Difetto InterVentricolare
Sindrome di Wolfe-Parkinson-White
Stenosi aortica sopravalvolare
Stenosi Aortica
Tachicardia sopraventricolare
Trasposizione dei Grossi Vasi
Tronco Arterioso

Ventricolo a Doppia Uscita
Anomalie cromosomiche che possono associarsi ai DIA
+14q
Monosomia 14q
Monosomia 2q
4p- Sindrome di Wolf
Sindrome di Turner ( 45X )
Triploidia
Trisomia 21 ( Sindrome di Down )
Trisomia 18 ( Sindrome di Edwards )
Trisomia 13 ( Sindrome di Patau )
Trisomia 8 mosaico
Trisomia 9 mosaico
Trisomia 22
Trisomia 13p
Trisomia parziale 22 (Sindrome dell'occhio di gatto)
Trisomia 13q

XXXY
Patologie Materne che possono associarsi ai DIA
Citomegalovirus

Diabete
Sindromi che possono associarsi ai DIA
Artrocalasia Multipla Congenita
Associazione malformazioni sternali-cardiache
Deficit del fattore V
Displasia Acromicrica
Displasia condroectodermica
Displasia tipo Kneist
Dita ad artiglio - difetto di crescita
Nanismo geleofisico
Neurofibromatosi
Pancitopenia di Fanconi
Pentalogia di Cantrell
Polisindattilia-malformazioni cardiache
Ritardo mentale legato al cromosoma X (Sindrome di Golabo-Ito-Hall)
Sindroe di Franceschetti-Zvahler-Klein
Sindroma CHARGE
Sindrome cardiofacciale - Facies asimmetrica
Sindrome Cardiomelica
Sindrome cat-eye ( occhio di gatto )
Sindrome CHILD
Sindrome coste-corte-polidattilia tipo II
Sindrome criptoftalmica
Sindrome criptoftalmo-sindattilia
Sindrome cuore-arti
Sindrome dei Beckwith-Wiedeman
Sindrome del viso di Elfo
Sindrome della Scimitarra
Sindrome di Alagille
Sindrome di Antley-Bixler
Sindrome di Cayler (trisomia 22 parziale)
Sindrome di Duane
Sindrome di Eagle-Barrett
Sindrome di Ehlers-Danlos
Sindrome di Ellis-Van-Creveld (condrodisplasia puntata)
Sindrome di Ferrel-Okihiro-Halel
Sindrome di Franceschetti-Klein
Sindrome di Fraser
Sindrome di Goldenhar
Sindrome di Halarz
Sindrome di Holt-Oram
Sindrome di Johanson-Blizzard
Sindrome di Kallman
Sindrome di Lutenbacher
Sindrome di Majewski
Sindrome di Marshall-Smith
Sindrome di McDonough
Sindrome di Meckel-Gruber
Sindrome di Meckel
Sindrome di Noonan
Sindrome di Okihiro
Sindrome di Pierre-Robin
Sindrome di Poland
Sindrome di Rubinstein-Taybi
Sindrome di Schinzel-Giedon
Sindrome di Treacher-Collins
Sindrome di William
Sindrome di Williams-Beuren
Sindrome di Zellweger
Sindrome Disencefalica
Sindrome ipogonadotropa
Sindrome mano-cuore
Sindrome oculo-auricolo-vertebrale
Sindrome Prune Belly
Sindrome radiale-renale-oculare
Sindrome scheletrica-faciocardiale-dermica
Sindrome TAR
Sindrome venolobare polmonare
Sindrome venolobare
Sindromedi Mutchinick

Situs Viscerum Inversus

Uso di sostanze e farmaci che possono associarsi ai DIA
Acido Valproico
Alcool
Anfetamina
Carbamazepina
Destranfetamina
Idantoina
Litio
Talidomide

Trimetadione
Bibliografia
Anderson RH, Brown NA, Mohun TJ. Insights regarding the Normal and Abnormal Formation of the Atrial and Ventricular Septal Structures. Clin Anat. 2015 Sep 17.
Anderson RH, Ettedgui JA, Devine WA. Sinus venosus defect. Am Heart J. 1995 Jun;129(6):1229-32.
Baschat AA, Gembruch U, Knopfle G, Hansmann M. First-trimester fetal heart block: a marker for cardiac anomaly. Ultrasound Obstet Gynecol. 1999 Nov;14(5):311-4. Review.
Ben-Ami M, Shalev E, Romano S, Zuckerman H.Midtrimester diagnosis of endocardial fibroelastosis and atrial septal defect: a case report.Am J Obstet Gynecol. 1986 Sep;155(3):662-3.
Better DJ, Apfel HD, Zidere V, Allan LD. Pattern of pulmonary venous blood flow in the hypoplastic left heart syndrome in the fetus.Heart. 1999 Jun;81(6):646-9.
Brons JT, van Geijn HP, Wladimiroff JW, van der Harten JJ, Kwee ML, Sobotka-Plojhar M, Arts NF.Prenatal ultrasound diagnosis of the Holt-Oram syndrome.Prenat Diagn. 1988 Mar;8(3):175-81.
Chiappa E, Viora E, Botta G, Abbruzzese PA, Ciriotti G, Campogrande M. Arteriovenous fistulas of the placenta in a singleton fetus with large atrial septal defect and anomalous connection of the umbilical veins. Ultrasound Obstet Gynecol. 1998 Aug;12(2):132-5.
Goldberg JF. Long-term Follow-up of "Simple" Lesions-Atrial Septal Defect, Ventricular Septal Defect, and Coarctation of the Aorta. Congenit Heart Dis. 2015 Sep 14.
McGahan JP, Choy M, Parrish MD, Brant WE.Sonographic spectrum of fetal cardiac hypoplasia.J Ultrasound Med. 1991 Oct;10(10):539-46.
Negishi H, Okuyama K, Sagawa T, Makinoda S, Fujimoto S. Two cases of monozygotic twins, in each of which one fetus was prenatally diagnosed as having a heart anomaly. J Obstet Gynaecol. 1995 Jun;21(3):293-8.
Park JK, Taylor DK, Skeels M, Towner DR. Dilated coronary sinus in the fetus: misinterpretation as an atrioventricular canal defect. Ultrasound Obstet Gynecol. 1997 Aug;10(2):126-9.
Phillipos EZ, Robertson MA, Still KD.The echocardiographic assessment of the human fetal foramen ovale.J Am Soc Echocardiogr. 1994 May-Jun;7(3 Pt 1):257-63.
Pinette MG, Pan Y, Pinette SG, Blackstone J, Stubblefield PG. Fetal atrial septal aneurysm. Prenatal diagnosis by ultrasonography. J Reprod Med. 1997 Aug;42(8):459-62.
Porcelli PJ Jr, Saller DN Jr, Duwaji MS, Cowett RM.Nonimmune fetal hydrops with isolated premature restriction of the foramen ovale.J Perinatol. 1992 Mar;12(1):37-40.
Potocki L, Abuelo DN, Oyer CE. Cardiac malformation in two infants with hypochondrogenesis. Am J Med Genet. 1995 Nov 20;59(3):295-9
Salih M, Demirel LC, Kurtay G. Prenatal diagnosis of ostium secundum atrial septal defect by M-mode fetal echocardiography. Gynecol Obstet Invest. 1998;45(1):68-70.
Spiro R, Rita D, Jazmines L, Jones C, Booth CW. Trisomy 12/monosomy X/normal female mosaicism: prenatal detection and confirmation in a liveborn. Prenat Diagn. 1996 Aug;16(8):734-40.
Tennstedt C, Chaoui R, Korner H, Dietel M. Spectrum of congenital heart defects and extracardiac malformations associated with chromosomal abnormalities: results of a seven year necropsy study. Heart. 1999 Jul;82(1):34-9.
Tongsong T, Chanprapaph P. Prenatal sonographic diagnosis of Holt-Oram syndrome. J Clin Ultrasound. 2000 Feb;28(2):98-100.

Toro L, Weintraub RG, Shiota T, Sahn DJ, Sahn C, McDonald RW, Rice MJ, Hagen-Ansert S.Relation between persistent atrial arrhythmias and redundant septum primum flap (atrial septal aneurysm) in fetuses.Am J Cardiol. 1994 Apr 1;73(9):711-3.